20' x 80' White High Peak Tent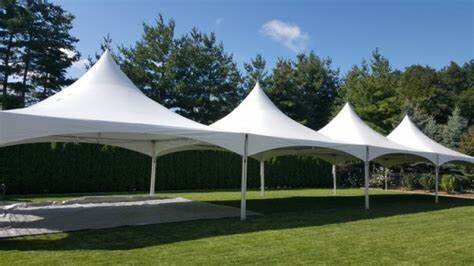 Description
20' x 80' High Peak Tents are perfect for any event type. The tents can be dressed up for an elegant feel or be used to simply shelter you from the elements. Weddings, Graduation Parties, Birthday Parties and Street Fairs, Remodeling, Business Events
You can use every square inch of this tent because the center pole is suspended on cables above which also helps the tent look very elegant and professional, with 1600 square feet of the covered area.
The tents can accomodate up to 200 people with a variety of ways to display seating. We can also attach multiple tents to accomodate larger guest sizes. We also offer tent lighting, solid side walls, or cathedral window side walls at an additional cost. Tents come standard as being staked into the ground. If you're going to be setting up on hard surface, we charge additionally for concrete block ballasts.
Base Price for the tent is $1400 before tax and delivery.
*Pricing may vary depending on set up requests and add on services.