20' Green Wacky Waver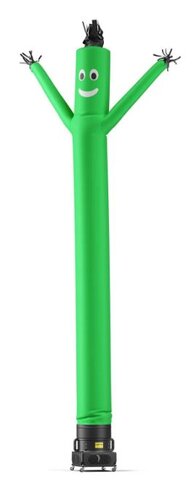 Description
**price set for up to 3 days, contact office to adjust the amount of days**
Introducing the 20' Green Wacky Waver, the ultimate attention-grabbing inflatable advertising tool! This eye-catching waver is designed to captivate passersby and attract maximum visibility to your business or event.
Standing at an impressive 20 feet tall, the Green Wacky Waver features a vibrant green color that is impossible to miss. Its dynamic waving motion creates a mesmerizing effect that will instantly draw attention and curiosity from potential customers.
Crafted from durable and weather-resistant materials, this waver is built to withstand outdoor elements, ensuring long-lasting use for all your promotional needs. Its lightweight design allows for easy setup and portability, making it a versatile marketing tool for both indoor and outdoor events.
Whether you're looking to promote a grand opening, a special sale, or simply increase brand awareness, the 20' Green Wacky Waver is the perfect addition to your advertising arsenal. Its towering presence and captivating movement will make your business stand out from the competition and leave a lasting impression on anyone who sees it.
Don't miss out on the opportunity to elevate your marketing efforts and drive more foot traffic to your business. Get noticed with the 20' Green Wacky Waver and watch as your brand takes center stage in the most playful and attention-grabbing way possible!